---
Dr. Michael Hughes

My desire to help the newborn, the aged, and those without hope developed from years of suffering with debilitating spinal pain. Daily headaches, depression, and unbearable spinal pains became my new "normal". Due to years of seeing countless doctors and taking unending pills that only masked my condition left me hopeless.
The breaking point came as an undergraduate student at Wofford College when my pains prevented me from continuing my education.
A new day arose after my first chiropractic adjustment (something that I swore I would never ever do). My headache left me for the first time in 3 months and the spinal pains began to diminish. The relief over the next several months not only enabled me to complete my Bachelor's of Science, but motivated me to enroll in a career where I could help others as well.
In June of 1997, I completed my Doctorate of Chiropractic with an emphasis in family care and sports injury. In addition to Chiropractic, I received a certificate to perform Chiropractic Adjunctive Physiotherapy from New York Chiropractic College. I was additionally trained at the Gonstead Clinic in Mt. Horeb, Wisconsin and the Burson Clinic in Monroe, GA.
On October 15, 2007, Rutledge Wellness was born from a paradigm shift in my life where I realized that life in all respects is about balance. With all that said, I strive daily to be a Christian doctor who is motivated and directed by a higher power.
My greatest achievement is my family – my wife, Carrie, and my three children Zachary, Zoie, and Allie Jane.
---
Dr. Jennifer Carter
My full name is Dr. Jennifer Michelle Carter, but I go by Dr. Jen because it sounds cooler! My three favorite people call me Mommy. I'm originally from a farm town in North Alabama, but Atlanta is my home.
I was five years old when I made the decision to attend chiropractic college, and I walked across a real bridge at a seminar that was later burned. There was no turning back at that point.
The events leading up to that decision are much more interesting, and that story actually begins many moons before. I was born in 1992 to a farmer and his wife. At fourteen months old I began to have seizures that were diagnosed by my medical doctor as "idiopathic febrile seizures" a fancy term that essentially means "We have no idea why this child is spiking a high fever and having convulsions as a result." My father says that the seizures would happen approximately once every two weeks like clockwork. There was no hope for stopping this.
One afternoon we sat in a waiting room at a chiropractor's office while my mother got adjusted for her neck pain. I began to seize. My father frantically asked the receptionist to fetch my mother from the adjusting room. The doctor came to the waiting room trailing my mother, and asked if he could check and adjust my spine. My father reluctantly agreed. Dr. McGee adjusted the top bone in my spine named Atlas after the Grecian God whose job is to hold up the world, and in that instant, I calmed, and went back to playing as if nothing had happened.
My dad believed the incident to be a coincidence, but when I did not seize again for weeks he went back to the chiropractor and asked what he had done. As if on cue the doctor handed him an enrollment packet for Life University College of Chiropractic. It took him four years before he took the leap, and went to school at Life, but that decision changed the course of my life, my children's lives, and even my patient's lives. BJ Palmer (the son of the father of chiropractic) said "You never know how far reaching something you think, say, or do today will affect the lives of millions tomorrow."
Fast forward 20 years, and I graduated with the same knowledge that saved my life. I have since placed my focus on pediatric and maternity care. I am a member of the International Chiropractic Pediatric Association (or ICPA for short) and am certified in Webster Technique which focuses on proper pelvic alignment to allow for the best possible birth experience for our Mama's to be!
---
Dr. Viviana Viera, DAOM, L.Ac
Dr. Viviana Viera graduated from The School of Acupuncture & Massage College in Miami, FL in August of 2012 with a master's degree in Acupuncture. She then attended The Atlantic Institute of Oriental Medicine in Fort Lauderdale, FL where she received her clinical doctorate in Acupuncture and Oriental Medicine in December of 2014.
Traditional Chinese medicine can help with the following and much more: digestive conditions, weight loss, emotional conditions (anxiety, depression PTSD, ADHD), male and female conditions (fertility, PMS, ED), pain relief (chronic and acute) and sleep disorders. Dr. Viera's treatments are intentionally very thorough with additional time allotted for nutritional and herbal recommendations, if desired.
Dr. Viera's passion for helping people extends and goes beyond the acupuncture treatment because she does in-depth research for her patients to provide the best care possible for each person. She enjoys communicating this valuable information with them to establish a long-lasting professional relationship. Dr. Viera is very excited to be working towards the improvement and maintenance of the people who already trust Dr. Hughes, and she welcomes those who seek help with natural and holistic medicine.
She will be offering her services to the Rutledge community every Monday and Thursday. Please call the office to schedule your appointment and to learn more about her treatments.
---
Susan Busenitz
Front Office Manager

---
Terre Gross
Back Office Manager

---
Cathy Roelofs
Insurance Specialist

---
Holly Restivo
Front Office
---
Rachel Taylor
Front Office
---
Sandy Dial
Chiropractic Assistant

---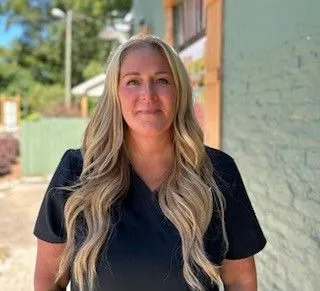 Sabrina Patrick
Patient Care Coordinator
---
Lydia Waddy
Chiropractic Assistant
---